CIF is term used for sea and inland waterway transport, not for gold deliveries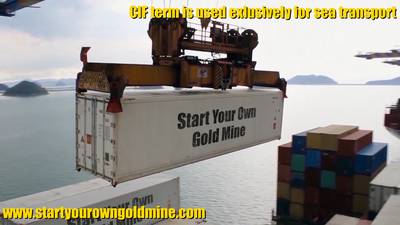 CIF is term used for sea and inland waterway transport, not for gold deliveries.
Incorrectly used international trading terms are quick indication that something is wrong and usually it is seriously wrong in the offered gold trade deal.
Since 2010, I have been purchasing and selling gold.
Several refineries received kilograms of gold that I have purchased and in none of their terms I have ever seen terminology like CIF. This is the fact.
CIF has its well defined meanings and implies that buyer has to verify goods before departure. This would mean in any gold transaction that buyer has to come to place, verify goods and be sure which goods are departing from port.
Finally, the term CIF is Incoterms terminology that applies only for sea and inland waterway transport. No sane person is to transfer gold by ship.
Air cargo may be as heavy as one tonne, and up to today, I have never seen that gold was ever transferred with ship.
Maybe by governments. Not in private transactions.
No, we will never send gold by CIF terms as we will not send gold by sea transport. Do not ask for it. Serious gold refineries will
No, we will never use incorrect terminology in any gold trade.
Reference: https://en.wikipedia.org/wiki/Incoterms#CIF_%E2%80%93_Cost,_Insurance_&_Freight_(named_port_of_destination)
Other useful pages for beginning gold traders
FCO or Full Corporate Offer Document is Made Up and Fraudulent Terminology
FCO or full corporate offer document is made up and fraudulent terminology that does not exist in serious business transactions. It is made up in the course of time and is result of lack of knowledge on both sides: the fraudulent gold and diamond sellers and wannabe brokers. The definition of the word FCO or "Full Corporate Offer" does not exist in the available dictionaries. It is also not part of the established business terminology. Anyone who receives or is being demanded a FCO or "Full Corporate Offer" is advised to be diligent.
Two types of gold market: the real gold trade and the virtual apparent gold market
There are two totally independent markets, one is the apparent market, and one is the real market on the ground. These two are so much contrary to each other. Many people are unable to believe or grasp the reality if they have spent much time researching the apparent illusionary market on gold trade. Are you the one in the apparent, illusionary gold market? Or do you wish to make a real business?
"I have a gold buyer", alright, but where is the advantage?
"I have a gold buyer" - we hear this sentence so often by self-made intermediaries, but where is the advantage? Does gold market really require, need, want new gold byuers? Or gold market demands simply gold? Where is the advantage for gold producing company that you have a gold buyer? Don't you know that if you have and know one gold buyer, we know one hundred of gold buyers. Gold is not in abundance that a gold buyer is an advantage, it is not. Gold is demanded and does not need marketing, it can be easily sold and in every gold mining country there are thousands of true and real buyers directly on the place. Learn how to offer the advantages and benefits to gold sellers and how to really buy gold.
Contact GOLDIVANTI LP now. There is a simple rule at GOLDIVANTI LP: if we can help you, we do, whenever and wherever necessary, and it's the way we've been doing business since 2009, and the only way we know
Contact Mr. Jean Louis by

Telegram at username @rcdrun.
All your inquiries are subject to
GOLDIVANTI LP's website Terms and Conditions